OK, Crackpots, here's my entry in the Mystery Quilt Event. First a look at my "palette."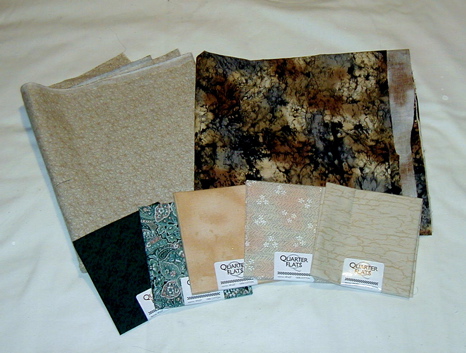 Actually it is only the part of my palette that I actually purchased for this project at Joann's. I have lots of brown, beiges, and greens in my stash that will be called on as needed. Now here's my first block.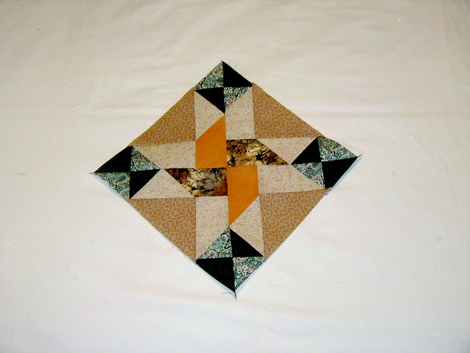 I like it. Note how different it is from Cathy's. That is what I think will be the fun part of this project – to see how the two of us come up with quite different final results, despite starting with the same pattern and similar palettes. Cathy, you are quite right about the corner 4-patches, and I actually went to the trouble of making 16 half-blocks to get it to come out as published in Quiltmaker, which I hated to do because I'm a terrible fabric miser. I can only hope that I will be able to use the leftover units in another part of the project. I really can't imagine that you will have a problem with your version in the final quilt. I did it the way I did because I couldn't find a way to get the blocks to be proper 4 patches, rather than being a triangle square block. I can't imagine why I had that problem, possibly because I already had 1 quarter block unit assembled when I realized the problem and started trying to correct it. Or maybe my brain was just out to lunch that day. Anyway, I am looking forward to the next Quiltmaker with more than usual anticipation.