I'm a little nervous about this hat turning out too small, but it's too early to tell… I cast on Friday evening (start delayed due to that annoying need-to-work on Friday).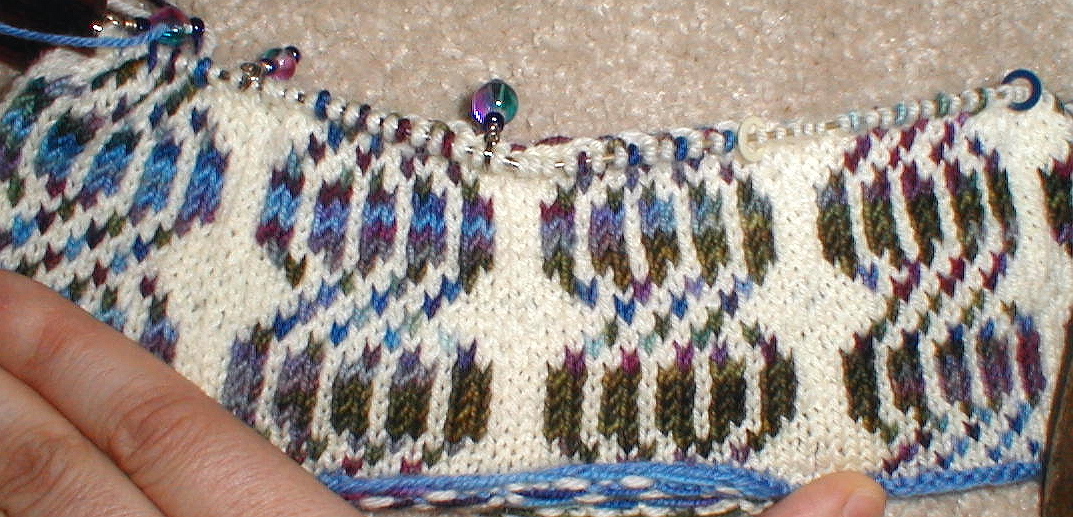 The pattern is Syncopated Caps from the Summer 2007 Interweave Knits. I am knitting a lining, so instead of the ribbing at the bottom, I'll just have an extra repeat of the colorwork. The lining will be with the light blue yarn that I used for the cast on row (look to the bottom right of the photo). The variegated yarn is Colinette Jitterbug.
I bought the Jitterbug yarn on a whim last month. I had discovered that I like wearing handknit socks with my black dress shoes. However, my existing handknit socks are colors that are somewhat less appropriate for business wear (such as not-at-all-subdued red). I decided that I needed to buy slightly more sedate sock yarn for my next pair of socks. The Jitterbug caught my eye at The Sow's Ear, and since there was only one skein of that particular color, it would surely be gone if I waited until I was finished with the pair of socks I'm currently working on.
I later read some reviews of the Jitterbug online which raised concerns about its durability, and also read the washing instructions – which, while they technically allow washing in the washing machine, don't meet my requirements for socks – i.e. that I can throw them in the washer with the rest of my laundry. Were I to use the yarn for socks, it would be quite some time before I would knit them – the currently-in-progress pair of socks has been stuck in the state of single sockdom for months, and I'm positive that the first sock was started in some year other than 2007. It turns out that socks are not my favorite thing to knit. Therefore, I'm using the yarn for a hat for myself – which I definitely do need.