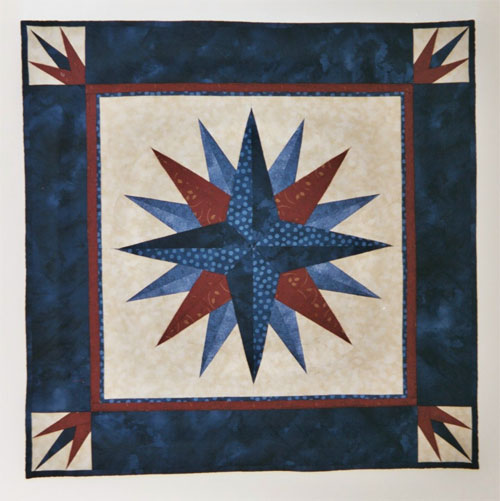 This is the Mariner's Compass wall hanging I made for Jim, the Executive Director of the local social service agency I am involved with. The pattern is from Judy Mathieson's book Mariner's Compass Quilts: New Directions. It is paper pieced. The hardest part was trying to get the points to come out at the right place. I designed my own corner squares to paper piece.
I chose this pattern because Jim is a sailor and he led the floundering agency in a new direction. The trickiest part was figuring out what color to make it. I asked Jim's 18-year-old son what colors were in their house, and all he could come up with was blue. Not terribly helpful…
YOIKS! IT LOOKS LIKE ONE OF THE POINTIES IS REVERSED! I CAN'T BELIEVE IT!
I would like to make another one in colors to go in our house.