My goal for the month of May was to work on finishing projects, and not start any new ones. So far, I've done pretty well at reducing the list of crackpot projects in progress. One thing that I finished was this pair of socks. I had originally made the foot of the first sock too narrow (note to self: believe the pattern. 64 stitches for the foot is correct, at least with this yarn), so I redid the foot with fewer decreases at the gusset. It was a little scary to cut off part of a sock, but I'd put a thread through the stitches to prevent excess unraveling and it went quite well.
Oh, and on the topic of mistakes – it's good to make things where you can position them in pictures so the mistake is not visible – I messed up the patterning on part of the sock I'm wearing on my right foot, but I'm not going to redo it.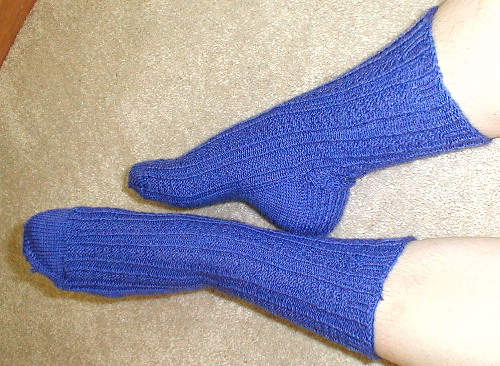 Pattern:
Retro Rib Socks by Evelyn A. Clark, Interweave Knits Winter 2004. I like this pattern a lot – I just don't photograph it well.
Yarn:
Lang Jawoll in a gorgeous purple – I love that this yarn comes with a little spool of dyed-to-match reinforcing yarn for the heel and toe tucked inside the skein – especially because reinforcing yarn on its own is ridiculously overpriced and limited in color choices
Needles:
Crystal Palace DPN's, size 0 (my current standard sock needles)