When I decided to make my living room color-coordinated with, well, itself, it was clear that my green futon cover had to go. I bought a brown one, and of course my blue bolster pillows also needed to be re-covered to match the new color scheme. I suppose I could claim that I painstakingly knitted a lovely fair isle sweater for these pillow covers, but I actually just went to the Goodwill store and bought some sweaters to felt them. Before anyone accuses me of knitwear blasphemy, I must clarify that I did make sure that the red sweater wasn't hand-knit (I think it was from Lands' End).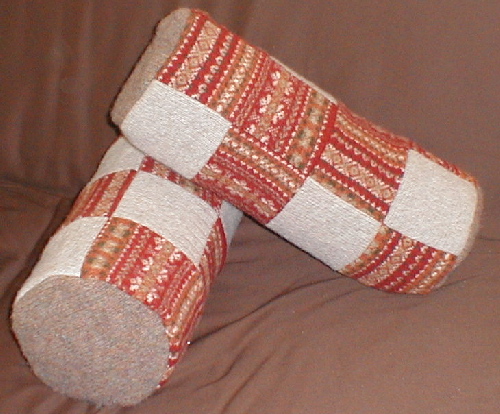 The piecing of the pillow covers was required due to the size and shape differences between sweaters and bolster pillows. You'll note that some of the red pieces are larger – that was to eliminate two seam allowances because I was that short on fabric length/width for some pieces.
The square pillows are pretty basic – the fronts are some fabric I picked up in Hawaii, and the backs are some leftover fabric from a skirt I made a few years ago (the pillows are identical, you are looking at the front of one and the back of the other). Have I mentioned how much I love my sewing machine's one-step buttonhole function? Wow.