I've been plugging along on the Fair Isle sweater, and I'm loving it – the colors, the patterns, the yarn, the fact that I'm making visible progress every time I change colors. I'm past the armpits, so there are now three sets of steek stitches which will later be cut to form armholes and the center front of the cardigan.
I'm sure all the crackpots will see the sweater in progress next week (I'm so smitten that I can't bear to leave it behind for a week in favor of something that's probably more appropriate travel knitting). For the blog readers I won't be vacationing with (are there any?), here's a current shot: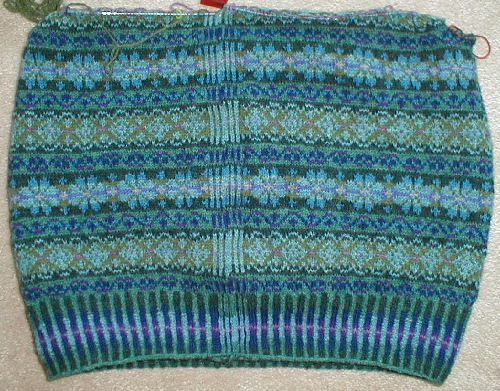 The stripey bit in the middle is where I'll cut for the cardigan front, and if you look very closely at the top corners of the body, you'll see where some stitches are being held on waste yarn to be later used when knitting the sleeves.
(oh, and if you're wondering about the previous post, all will be revealed next week…)