Here is the angel ornament that Alice made for the Fiber Arts ornament exchange. I was the lucky one who picked it.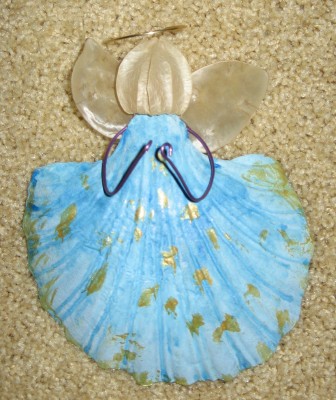 Alice makes paper, and the angel's skirt is her handmade paper shaped over a shell. Last year Alice did a presentation at our guild. She brought many of her totally amazing projects and a slide show of her work.
Imagine a sculpture of a male torso (Upper body only! This is a G-rated site!). Now imagine this sculpture made of handmade paper. See what I mean? Amazing! I wish I had some more photos of Alice's work to show you.
And the armadillo, which doesn't have anything to do with Alice or handmade paper or much else. Many of you will remember the incident of the stolen armadillo sculpture of several years ago. A local driver found a frozen (deceased) armadillo by the side of the road in the end-of-alphabetical-order town to the east of us. He hasn't decided what to do with it. One does wonder what the options are…