Wednesday was the Fiber Arts Guild's potluck and ornament exchange. It was great fun, with good food, good company, lovely art, and plenty of laughs.
Everyone brought a dish to share.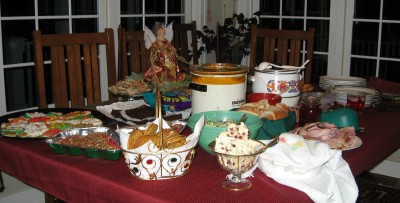 We were all interested in Jonetta's Rice Porridge. In Norway it is traditionally served on Christmas Eve (or is it the day before Christmas Eve?) with butter, cinnamon and sugar, and dried meat. It was delicious. There was a certain amount of debate about Aron's decorated cookies. Were they for decoration or for eating?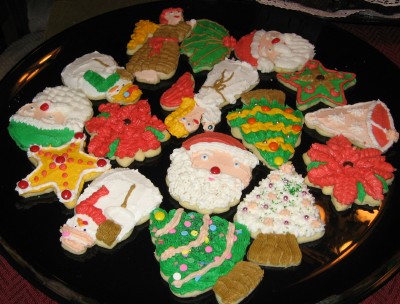 OK, we ate them. Yummy!
After dinner, we had show and tell. I didn't get a picture of the most exciting news of the evening. Jennifer had her work featured in 500 Handmade Dolls from Lark Books. See http://www.jennifergoulddesigns.com/ for more of her work and information about the book.
Lynn brought mittens.
In 2006 there was a NATO Summit in Riga, Latvia. All of the delegates were given a pair of mittens knit in a traditional Latvian pattern. 4500 pairs of mittens were knit, and all of them were unique. See http://www.rigasummit.lv/en/id/cats/nid/698/ Lynn adapted a Latvian pattern for double knitting.
Jonetta brought hardanger. This is a traditional Norwegian craft.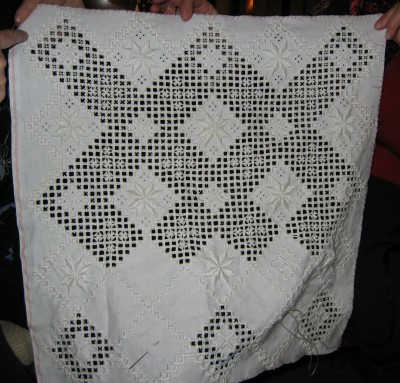 Aron brought some of her felted dolls. Here is the Grinch, in case anyone needs a mood adjustment. Aron learned to make these felted creatures at a Fiber Arts meeting just over a year ago, and now she is selling them at a local shop.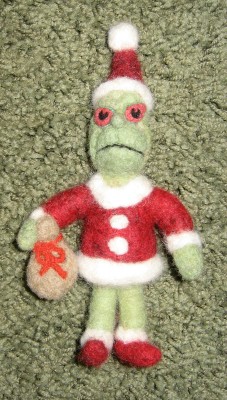 Alison brought three dolls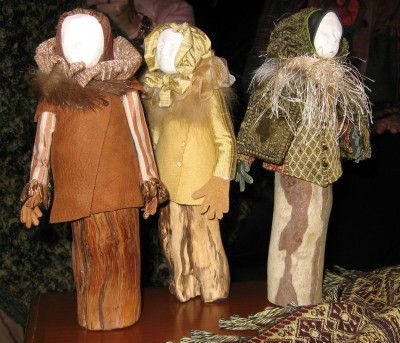 and a wall hanging showing the same figures.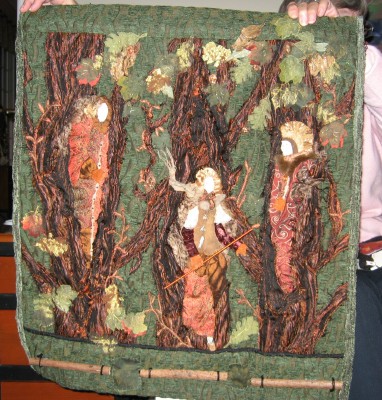 Bonnie brought a bunch of adorable crocheted finger puppets (sorry, no photo) and a woven ribbon pillow.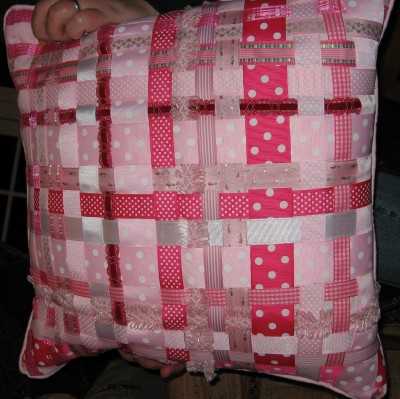 Some talent in this group, isn't there?
After show and tell we had the ornament exchange.
This is the ornament I brought. A plain brown wrapper: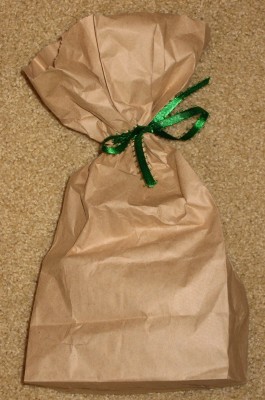 The inner gift bag: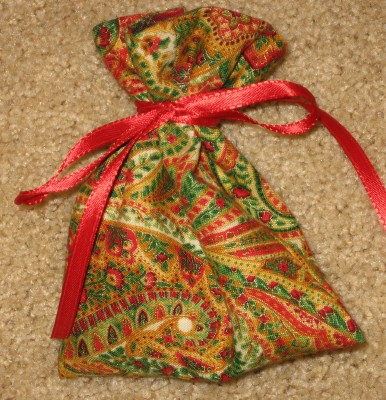 The beaded ornament: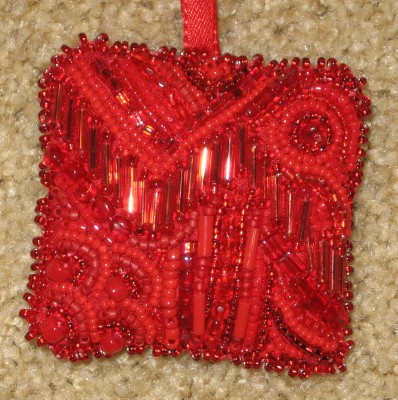 Coming later–a photo of the ornament I received.