I have been having lots and lots of fun in my online Mixed Media Surface Design class. I just love learning how to use new materials. However, it is important not merely to focus on the fun part and the learning part. My taking this class has a public service element.
That element is my own Economic Stimulus Package.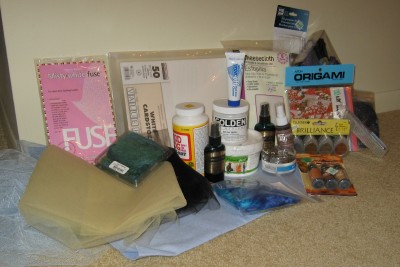 Note the "Iron Off Hot Iron Cleaner." I actually had this on hand, but I am going to have to be more careful with my iron and fusible stuff or I will need the giant, economy size.
This first thing we did was make tissue paper fabric–two layers of tissue paper fused on muslin. Then it was sprayed with glittering paint and stamped with more sparkle stuff. I was a little concerned about the layers on the first piece staying together. So I did some stitching.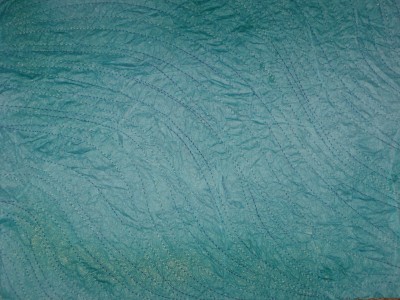 This piece looks pretty cool, but I haven't decided what do do with it yet. The second piece was made the same way. I decided to use the second piece to make a little book. For the back of the book, I made random stitches with perle cotton.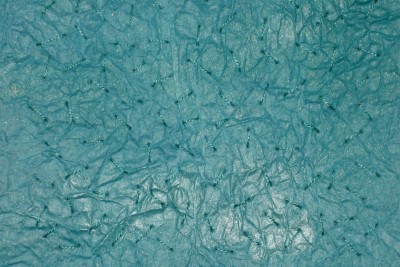 For the front, I stitched with perle cotton in the same way, but put beads on the perle cotton. Then I fused some batik fabric to the back, cut out the little book covers (5″ x 6″) , and edged the covers with the perle cotton in the blanket stitch. I had some cardstock in the same color family so I used that for the pages. I stamped on the pages with a pearl ink to give a slightly mottled look. Then I sewed the covers and the pages together and added some dangling beads to the perle cotton holding the book together.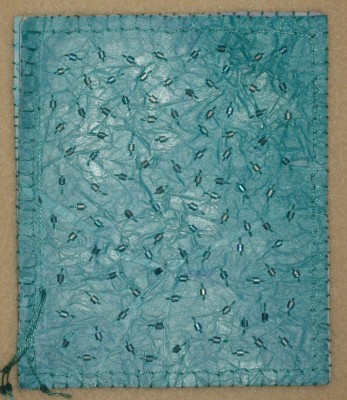 The second lesson was posted today. I still have some more things to do to finish the first lesson. That will be ok, unless I have that "It's exam week and I haven't opened the book" dream.