This is the mulberry bark concertina. The bark came dyed purple with a little jade green. Because my piece was about 3″ by 15″, I needed to modify the size somewhat. First I soaked the bark in warm water for a few minutes. Then I could pull it apart and stretch it a little. After it dried, I decided it needed a little more intense color. So I used some Dye-Na-Flow and Lumiere. I added a little Pearl Ex for extra sparkle.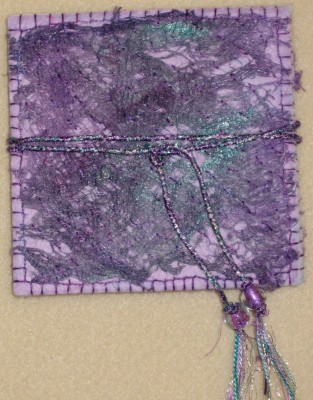 I wasn't crazy about the color combination of my light blue felt and the purple and jade mulberry bark. So I fused some tissue paper to the felt and further doctored it up by stamping some iridescent paint on top. I then used a diagonal running stitch and some silk embroidery floss to stitch the bark to the felt. I used that same floss to use the buttonhole stitch to hold the outside cover to the inside cover.
The cord is about 8 strands of fairly thin fiber zigzagged together with three colors of metallic thread. One thing I did was to separate some silver floss before twisting it in with the other fibers. I liked that effect. In retrospect, I probably did not need to spend half an hour choosing the precise fibers to go in the cord and I did not need to use any silk floss. The subtleties don't show. But I'm pleased with the overall effect.
The silk cocoons seemed a little large for the book so I used beads on the end of the cord.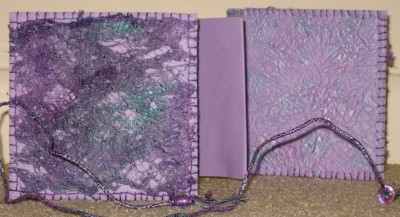 The hardest part of the whole process was finding where my box of sewing machine needles was hiding. AARGH! It was in with fusibles under the Misty Fuse. So much for the ill-fated effort at straightening up the sewing room after 8:00 p.m.