I finally finished the third project for my online class. The the first layer for the cover fabric is pattern pieces fused to muslin. Then that fabric is cut up and fused to felt. Two layers of blue tulle are fused on top. If you look carefully, you can see that the pattern I used was for one of the Bear Suits.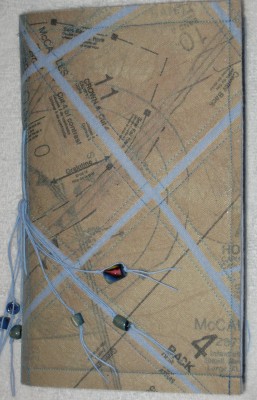 Using the blue tulle gave the pattern pieces a little bit of a blue tinge that I liked. I did audition several colors of tulle before I picked the light blue.
The signatures (sets of pages) are white cardstock. Finding and then preparing the string to sew them in took a couple of tries. I didn't like the look of white or natural colored string on the outside of the sketchbook. I found some vintage kite string in the junk drawer and used fabric paint to color it to match the felt. I ended up doing this twice because the first length was too short.
I wanted to embellish the strings somehow. My first attempt was braiding, with each set of four strings used together. That was not exciting. I played around with braiding a little more. Finally I found some instructions for making a 12 strand braid on a Cub Scout website. That was pretty cool, but not quite what I wanted. (For those who wondered, the pattern is over 8 and under 3.)
I then thought about beads. I didn't think I had any beads with holes large enough for the string, and we were snowed in so there were no shopping opportunities. One idea was to make fabric beads to match the cover fabric. But then I went into my bead stash and found these. I picked them up last summer at our locally-owned, friendly yarn store for ten cents each. What a deal!
The title of this project is "The Sketchbook of Permanently Unfinished Ideas." The first thing I plan to sketch in the book is the Finnish Knock-Off Project. It's not only unfinished but also unstarted. But I now have another idea of how to do the knock-off.