It's been a while, but I finally finished two more projects for the online class. Both of these are made of paper towel fabric. First, the vase, which followed the directions for the class project. (Except for a minor measurement error. Duh! Don't use rulers after 8:30 p.m.)

Damp paper towels are dyed/painted, and then left to dry. After they are dry, the dyed towels are torn and the torn bits are fused to muslin. The muslin is then fused to a felt base. Then it is stitched in a grid to make sure everything holds together and to add some texture. A cotton lining is fused to a heavy-duty interfacing (Pellon 72), and the paper towel fabric is lightly fused to the other side of the interfacing. The edges of the vase sides are covered with a satin stitch. Each of the sides is stitched to the triangular base with a wide zigzag. Then the vase sides are hand stitched together. The last step is adding the beads. Deciding exactly what I wanted to do about the beads was what took the longest. I had to put some marbles in the bottom of the vase so the weight of the beads wouldn't pull the it over.
This paper towel fabric has quite an interesting texture so I decided to try to make a box of my own design. After determining the shape, I followed the same procedure as with the orange vase and created the outer box.
This is the outside of the box before I stitched the sides together.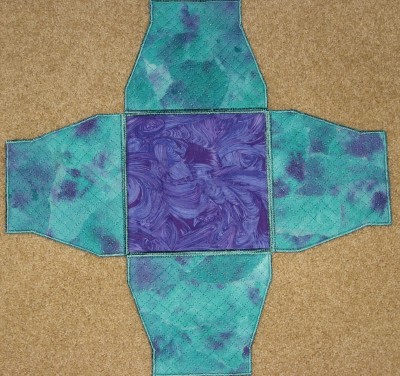 This is the inside of the box before I stitched the sides together.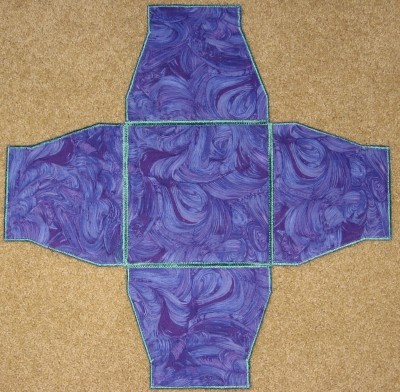 I wanted to have an inner tray so I glued some supports on the corners after I stitched the sides together. Here is a view of all the pieces from the top.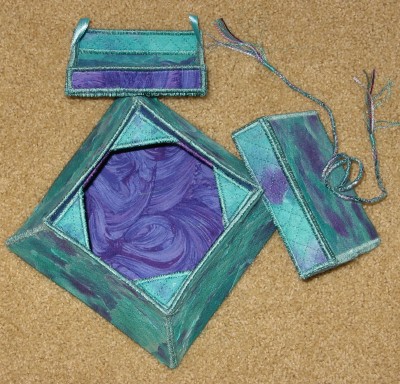 Showing the tray: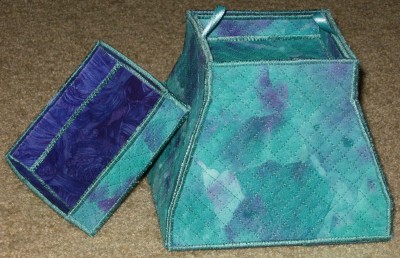 From the side: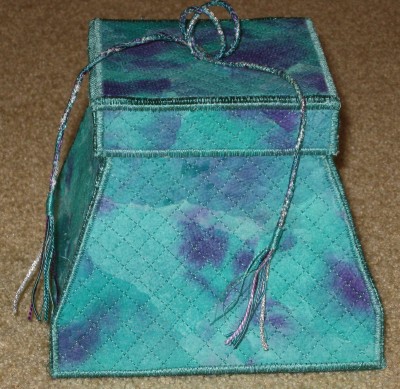 Another fun project!