Okay! Now you're logged in and ready to get going. Here I'll explain how to post a comment to an entry that someone else (or you!) has already posted. This is actually pretty easy and self-explanatory, so if you're feeling anti-authoritarian, just skip to:
Your next assignment: post a comment to this entry!
To post a comment to an entry, just click the link below that entry that says "No Comments" or "2 Comments" or however many comments there are:

The comment-writing interface is fairly simple, because it's designed for anyone in the whole world (not just you Crackpots) to use: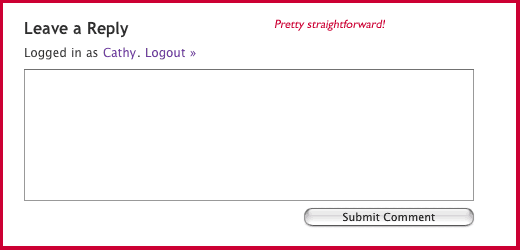 That's the idea behind blogs, basically: one or several people put their ideas on the web, and everyone else comments on them and joins a conversation. However, this blog operates a little differently: we don't necessarily care what everyone in the world thinks of our quilts and other Crackpot projects, so I've constructed the blog so that only the five of us can comment.
You have to be logged in to comment, and if for some reason you've gotten logged out and try to post a comment, the blog will make you log in first. But you already know how to do that, right? So go ahead and try….
Your next assignment: post a comment to this entry!