Yay! I got Nancy's thank-you card yesterday, which means that she's seen this, which means that I can now post about it. Here's my birthday present for Nancy, a wall hanging made from the block "Nancy's Nosegay," which appears on Nancy's birthday on the Quilt-Block-A-Day perpetual calendar!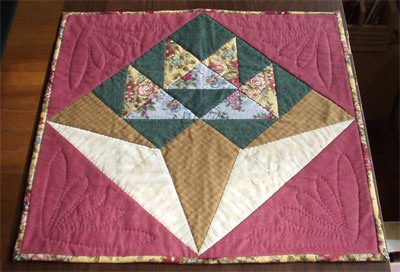 This was my first project that involved quilting that wasn't in the ditch, so that opened up a whole new world of finding, modifying, and marking quilting patterns. Here's a detail of the quilting in the setting triangles: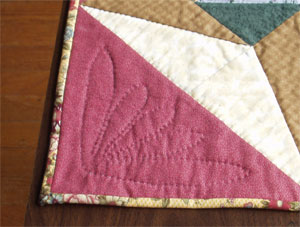 Now, I'm not known for getting holiday presents of any sort out in a timely manner, but this one was a real winner: I originally intended it for Nancy's birthday last year, but by early May had only completed the top. So, I sent her the top, along with a postage-paid return envelope. She sent it back to me, and I finished it for her birthday this year – still not getting it done in time, mind you, but close enough. Hence the explanation on the label I sewed onto the back: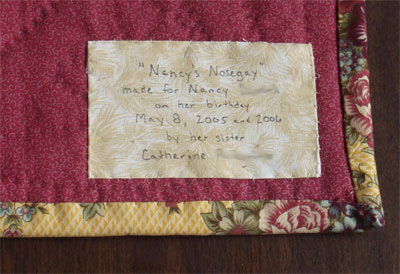 Let it never be said that I didn't document my failings!