Cathy asked about knitted rugs. Here's one that I made last year from a free pattern found on the Interweave Magazine website.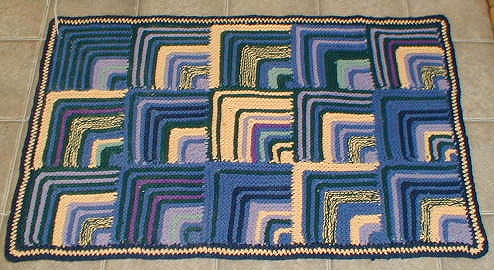 Yarn: Lion Brand Lion Cotton
What I changed:
All of the colors in the pattern, and I added a crocheted border to make the edges more even and add a "finished" look.
What I learned:
When changing all the colors for a multi-color pattern, create a customized version of the pattern. If your pattern comes in electronic form, try copying the pattern text into your favorite word processor. With strategic use of find/replace, change the color names into the ones you're using. That way, you don't have to always remember that "red" is actually blue, and blue is some other color.
The brush-on rug backing stuff for hooked rugs is amazing. The cotton yarn otherwise won't hold its shape, even with blocking. I pinned the rug out into a rectangle on my folding cardboard clothes pattern-cutting board, using the markings to make the edges straight and even, then applied the backing. Voila – rug doesn't slide on my floor, and the shape is fixed!