As I mentioned to some of you at Thanksgiving, Quiltmaker magazine has a new Mystery Quilt series starting in the current (January/February) issue and going through the next five issues. I will admit that I've been becoming less and less inspired by the designs in Quiltmaker — I'm not sure if this is because their designs are getting objectively less interesting, or whether it's because my tastes are growing in a different direction — but I'm intrigued by this idea.
(I'll also admit that about 80% of my intrigue is because of the beautiful palette of fabrics they've picked for their rendition of the quilt, another 10% is the coolness of the first block, and the remaining 10% is because I love a surprise.)
It's very difficult to select fabrics for a quilt whose design is a secret when you start, but the whole quilt is done in tone-on-tone fabrics of varying values, which makes it a little easier. I bought a few fabrics over the holiday weekend, and supplemented with fat quarters and various scraps from my stash: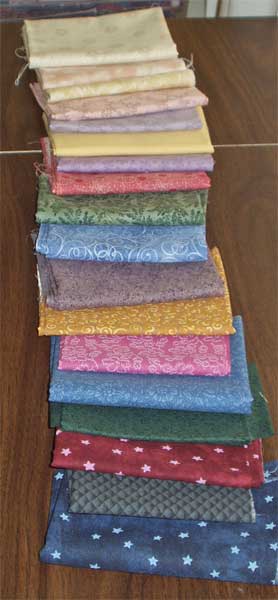 Only five of these fabrics are newly-purchased. My early stash-building strategy was (unbeknownst to me) heavily oriented toward tone-on-tones, so there are a lot of fabrics in here that I bought long ago. Also, you may not be able to tell from the photo, but there are leftovers from at least four different projects in there, including two baby quilts. (!) I still need to purchase some longer yardages of very light and very dark fabric, but this is a start. Anyone care to join me in the project?