Here are the finished Nordic mittens. No guarantee on the colors appearing accurate – I blame the poor lighting, my inadequate photography skills, and my monitor.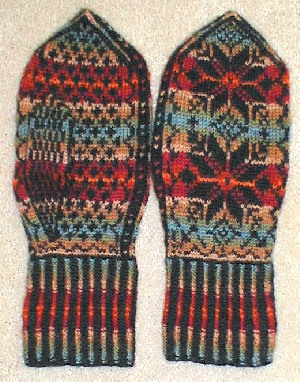 And since it seems to be trendy to also show the inside of colorwork projects, here's the inside: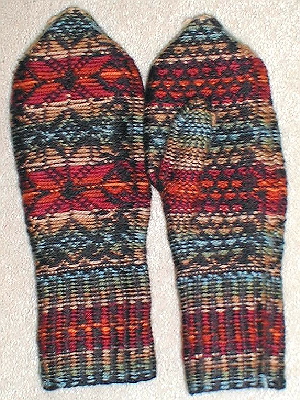 Details:
Pattern: Nordic Mittens from Interweave Knits, Winter 2004
Yarn:Brown Sheep Naturespun Sportweight, mostly my friend Bowerbird's leftovers from her mittens
What I changed: I used black for the main color instead of the brown called for in the pattern because I want them to go with my black wool coat. I also replaced one green row in each color repeat with brown in an attempt to better coordinate with the scarf I posted earlier.
What I learned:
Norwegian purl makes corrugated ribbing rock.
Yarn dominance (which explains a lot about the appearance of my previous mittens).
Spit-splicing is my friend.
Multicolor mitten knitting is much more pleasing after a several-year hiatus (I'd done mittens in college and swore I'd never do that again)
When knitting patterns with multiple color charts, cover up the one not in use to avoid knitting from the wrong chart (fortunately I realized before even finishing the row I was working on that things weren't calculating out correctly)
Evaluation:
This is a good pattern and was fun to knit, but I have some size issues.
The cuffs turned out longer that I was expecting, but the diameter is good. The hand part is rather large on me, so I'm not sure if I'll try to shrink them a bit, or line them – I lined my other mittens with windblock polar fleece, and that's been great on cold, windy days. I'm afraid that if I try to shrink them, the thumbs and cuffs will end up being too narrow.