This post could be subtitled: Rotational Symmetry Makes My Brain Hurt.
So a couple of weekends ago, I pieced the first block in the Mystery Quilt project. It went together pretty well, once I remembered about corner trimming templates for piecing triangles. The results are shown below: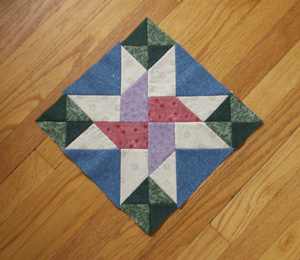 There's only one hitch: if you look closely at the quarter-square triangles in the corners of the block (the light and dark green patches), you'll see that they're not rotationally symmetrical. Thanks to the magic of Photoshop, I can show you what I mean. Here, again, is the block as I pieced it, and the block as displayed in Quiltmaker: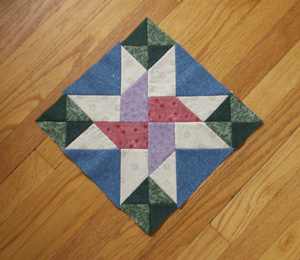 |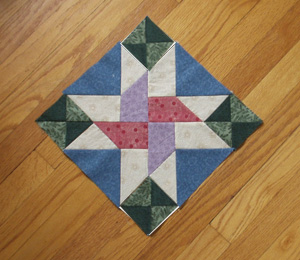 I followed the instructions given in Quiltmaker, but because of the way that the block is assembled at the very end — it's made up of four triangular sections, sewn on the diagonal — there's no way to get all four corners rotationally symmetrical without making twice as many quarter-square triangle units and using only half of them. I didn't have a huge amount of the green fabrics, and I wanted to be able to use them for other parts of the quilt, rather than throw them out. So I was faced with a choice:
Disassemble the block, sew a bunch more quarter-square triangle units, and re-assemble it, hoping that I wouldn't need much more of the green fabrics later on, or
Leave the block as is, and hope that the perfect rotational symmetry of the block isn't critical to the design of the quilt as a whole.
I chose the latter (for now), though I'm having second thoughts. Unfortunately, because of the way the block is assembled, if I decide to go back and re-do the block, I'll have to disassemble the whole thing, which will be a pretty big pain in the neck.
So what do y'all think?
Also, Ann says below in her comment that she's joining in the project – yay! I can't wait to see her palette of fabrics!