I'm still catching up on pictures of things I finished a while ago, so here's my bamboo basket. Actually, the knitting was done a while ago, but sewing the lining in was a more recent endeavor, fraught with mismeasurement problems. It took two tries of cutting the lining fabric, then two sewing attempts to get a lining that fit. It was a "measure once, cut twice" kind of thing. I was fortunate to have enough lining fabric. The pattern for this is Bamboozelle from knitty.com, but I changed it a bit to suit my yarn (slightly thicker than used in the pattern) and sewing skills. I'm hoping it'll help to contain the explosion of knitting accessories which occurs around the chair I sit in when knitting. My stitch markers have a tendency to disappear into the ether, or perhaps just under my chair.
The pattern called for working with the yarn (which really is made out of bamboo) at a smaller-than-usual gauge (the tapering is achieved through changing needle size, not the number of stitches), and the basketweave stitch also requires some knitting acrobatics. I like the end result, but boy was it painful to knit.
Here's the exterior: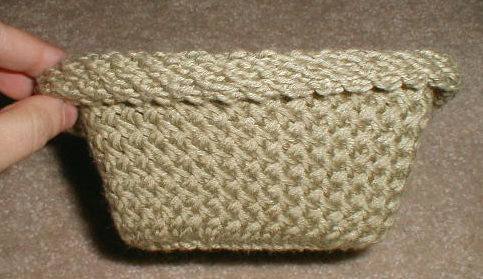 And the interior: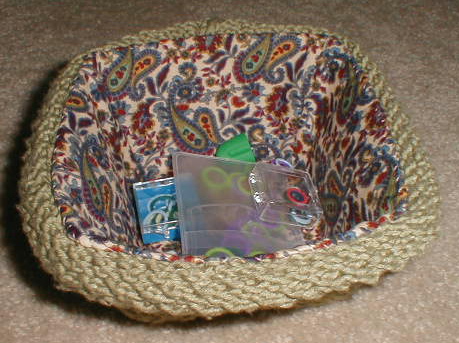 Upcoming posts: I've got a hat which just needs blocking, and my Rogue sweater is finished but not photographed.
Here's a preview of my Rogue – someone made the same sweater with the same yarn as I did (even the same color!). The main difference is that I didn't do the kangaroo pocket on mine.